I haven't blogged about this previously, honestly I really don't know why it took me so long. I found out some very bad news when we were at my mom's in Montana. If we would've been at home, probably the first thing I would've done was sit down and write a blog. Since we weren't, I didn't. But I feel compelled to today, after reading through a post on my birth board.
Some of you may know that I post on a pregnancy board online. I check it every day and I consider everyone one there my friends, and a few on there I am very close with and wish we lived closer together. When I was at mom's I didn't have the chance to check in like I usually do, or post much at all. One morning (Sept 9) I popped online really quick to see what was up with my online family. I couldn't believe what I read. One of the little boys, just a week or so older than Beanie, had passed away. Slipped out the back door and drowned in the backyard pond. I just stared at the computer screen. I said "oh my god." Hubby overheard and asked what was wrong. I could barely speak. I clicked reply and sat there forever trying to figure out what exactly to type. What could I say? Nothing seemed right. I felt like someone had ripped my insides out and thrown them on the floor; I couldn't even begin to imagine what the mother was feeling. How could anything I would say be "right"? I posted my condolences and came back out to the living room (where everyone else was) and just sat, mostly speechless, still in shock.
I decided to write this this morning because last night I got online and the mom had posted that she saw a wonderful little trike at the store and how much she wanted to buy it, knowing how Reed would've liked it. The mom is amazingly strong. I cannot even fathom how she has so much strength at this time. Everything she posts is from the heart and full of truth. I'm not sure I could even visit the board should I be in a similar situation.
Putting myself in her shoes is something I never want to have to do. Hubby and I were going out to dinner the night I found out about Reed's death. To be honest, the last thing I wanted to do was leave Beanie with my mom and stepdad while we went out and celebrated. Hubby and I never really talked about the situation while we were in Montana, I felt like I needed to talk about it but, honestly, we weren't talking much at all on our trip. We talked when we got home and he told me how, even though he doesn't know the family, he is full of grief for them too. He couldn't imagine having to go through the death of your child. I don't think anyone can, or wants to.
This blog is no where near as eloquent as I hoped it would be. Reed was an amazing little guy. Though I only knew him through pictures and stories posted online, his sheer joy for life always shown through and its something I will never forget.
Last Saturday, a lot of the members of my birth board went out and blew bubbles in Reed's memory. Here are a few of our pics.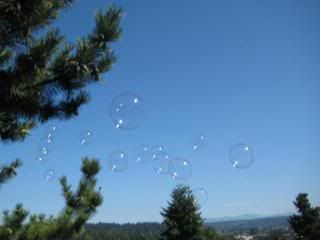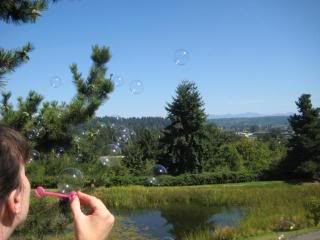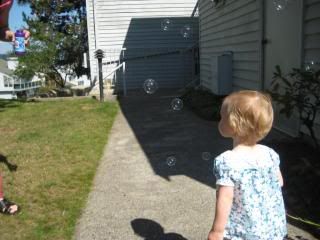 Rest in peace Reed. You are missed.