Hubby finished laying the wood laminate flooring in the master bedroom yesterday. It looks fabulous! Our ten year old white (read...gray) carpet is gone!! Ugh, seriously that carpet was so disgusting. We replaced the carpet in Beanie's room and the living room last year, but just did the master now. While I will be more than excited if we are able to sell the condo quickly (especially in the current housing market), it kind of sucks that all this work has been done and someone else is going to get to enjoy it. On the other hand, with a toddler I do think it is best to fix up and move out because undoubtedly things will not stay nice and shiny for long.
The fact that we are almost done brings a whole new slew of worries to my mind. Will we be able to list for a high enough price to enable us to buy a new, bigger house? Can we even afford a house around here? We can't where we currently live and are looking to move about twenty minutes north, where it is still too darn expensive but at least somewhat doable. Will the house sell quickly, or will we be working to keep it immaculate and ready to show for months on end? After all the stress of remodeling for the last nine months, now we will have the stress of having the house for sale.
The biggest question will come be answered when the realtor comes out and tells us what we can list the place for. The answer to that determines whether all the other questions will be moot anyways. At first I was thinking of having him come out before we went on our trip (if we were done by then like we're hoping), but now I think it may be better to wait until we get back. What if the number he gives is much lower than we are anticipating? Wouldn't it be better
not
to know that before we try to get away for a week and enjoy ourselves? I know that I, for one, would have it on my mind the whole trip if that were the case.
Well, since I've been talking so much about the house, how about a few pics?
The kitchen (before and after)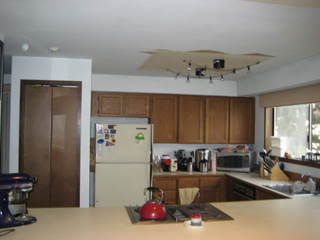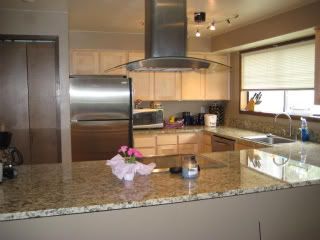 The master bathroom (before and after)