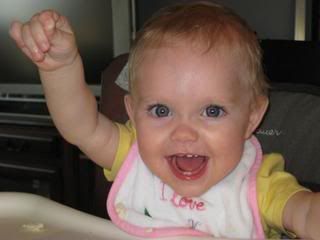 Beanie circa 2008. Excited about cheese.
Bubby had his nine month well check last week. He weighed in at 20lb 1oz. He's almost tripled his body weight since birth, almost entirely on breastmilk. He's had negligible amounts of solid food, but, really, he's not interested. At least not in purees. I made
homemade baby food
, but he shuns it as he eyes the food on our plates. Beanie has been eating most of the purees; they seem to be a treat to her. I'm not worried at all about his lack of solid food intake right now. The pediatrician noted that he has fallen a bit on the growth curve (to be expected as he's more mobile, can't sustain a growth of 4lbs a month forever, etc). She did encourage us to try new textures with him.
Glenn and I talked and I went back and forth. We had mostly given up on trying to get him interested in purees. It just wasn't worth it. I'd rather just nurse since I know Bubby
doesn't really need solids during his first year
. At first, I wanted to offer purees with more regularity, but now I think we've decided to go with a baby led weaning approach. If you don't know about baby led weaning, it really has nothing to do with weaning from the breast; it's about letting your child be in control of the food they eat. Kelly at KellyNaturally just wrote a great overview of baby led weaning and I encourage you to
check it out
if you're looking for more information.
He still doesn't eat much, but I'm not worried at all. He is much more interested in real food than the purees. He explores it and, lo and behold, some of it makes its way to his mouth. When I think back now, Beanie was much the same way. We made homemade babyfood, but she wasn't much interested in food at all until she was about a year old. We never pushed babyfood, but it is nice to see Bubby having fun with food now. We'll just keep taking it slow and enjoy our new adventure.
Anyone else practicing baby led weaning? What foods are you giving your little one?